Is Tanzania second highest mountain standing tall at 4566m. It is located in Arusha national park and offers some of the most spectacular scenery and wildlife diversity of any mountain in Tanzania. Mount Meru is a challenging trek due to its steepness, but is a great way to acclimatize before attempting Mount Kilimanjaro. Climbers are accompanied by an armed ranger due to the abundance of wildlife on the lower slopes. Mount Meru also has some historical significance to it whereby some have suggested that it was the resting place of Noah's Ark when it came to rest after the biblical flood receded. Mount Meru is a great trekking option for those who want to take on a climbing challenge and get the sense of being out in the wild, but are not quite ready to tackle Mount Kilimanjaro.
---
5 days [ 3 days of trekking ]
---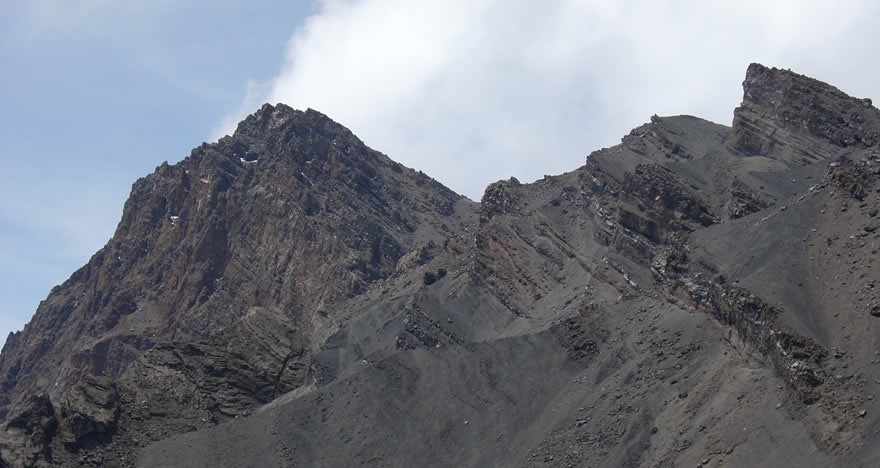 Day 1 : Arrival Day
You will pick up at the Kilimanjaro international airport and transferred to your hotel in Moshi town. You will meet your guide who will brief you on your upcoming trek and do an equipment check to make sure you have all the necessary mountain gear. Gear which is missing can be rented on this day.
Meals: breakfast included
Day 2: trekking from Momella gate [1500m] to Miriakamba hut [2500m]
Distance covered: 6 km
Time approx: 4 hrs
Meals: breakfast, lunch, dinner included.
Day 3: trekking from Miriakamba hut [2500m] to Saddle hut [3500m]
Distance covered: 6.5 km
Time approx: 4 hrs
Meals: breakfast, lunch, dinner included.
Day 4: trekking from Saddle hut [3500m] to the Summit [4566m] and descent to Miriakamba hut [2500m] and then to Momella gate [1500m]
Distance covered: 28 km
Time approx: 14 hrs
Meals: breakfast, lunch, included.
Day 5: departure from Tanzania
This day left for your next destination. If you have a safari, might be used to beginning your safari or fly to Zanzibar or fly back home. Our vehicle will be ready to take you to the airport at your time.
Meals: breakfast included.
* 3 days climb + 2 days in hotel
* safari, Zanzibar and other add-ons are available if you wish to continue exploring Tanzania.
* Trek cost in US dollar per personal
1 person = 1000/=
2-4 people = 900/=
5-7 people = 800/=
8-10 people = 700/=
11+ people = 600/=
* The climb cost includes:
- Private transport to and from Kilimanjaro international airport to your accommodation in Moshi town.
- 2 nights of accommodation in Moshi.
- Transportation to and from Meru gate.
- Park entry fees.
- Accommodation in wooden cabins on the mountain.
- Camping fees.
- Team Meru rescue fees.
- 18% VAT on tour fees and services.
- 4 season mountain tents.
- Double layered sleeping mats.
- Friendly and professional mountain guides, cook and porter.
- 3 hot meals daily while on the mountain.
- Enough treated and filtered drinking water throughout the trek.
- Hot water for washing.
- Fair wages for mountain crew as approved by the Kilimanjaro national park and Kilimanjaro association tour operator.
- Government taxes.
- Portable oxygen tanks and ox-meter.
- Emergence first aid kit.
* Cost excludes:
- Lunches, dinners and drinks at your hotel before and after climb.
- Travel insurance.
- Flights.
- Laundry [available in hotel]
- Personal items at toiletries.
- Tips for guides, porters and cook.
- Portable flush toilet tents are available for extra charges $ 70 for entire trek.
BOOK TODAY HERE !